SLODRE kindly invites you to the event that will bring together authors contributing chapters to 'From Actors to Reforms in European Higher Education - A Festschrift for Pavel Zgaga', and Professor Pavel Zgaga to whom the Festschrift is dedicated. The book has been published as part of the Higher Education Dynamics book series with Springer Nature. Professor Pavel Zgaga will offer a brief response to the Festschrift followed by a conversation with the contributors and other participants.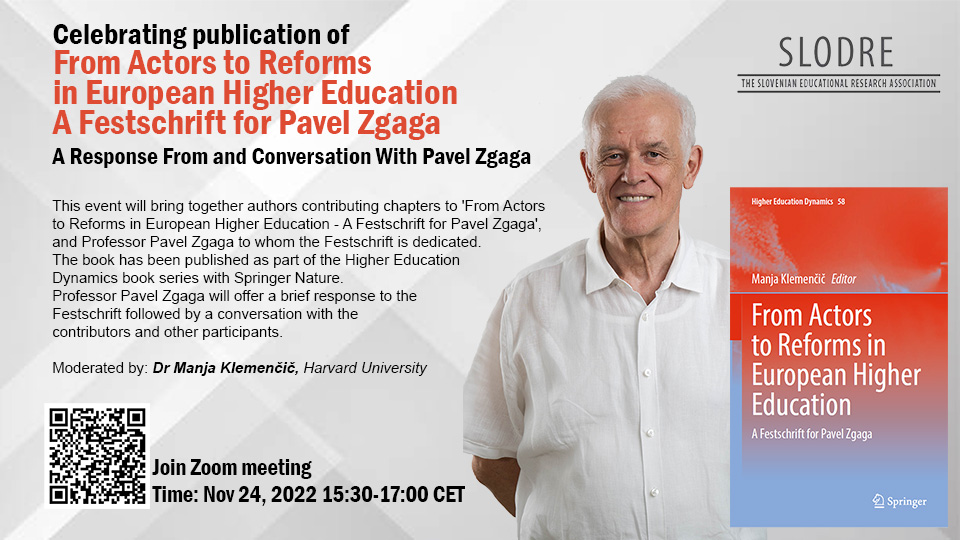 Time: Nov 24, 2022 15:30-17:00 CET
Join Zoom meeting https://harvard.zoom.us/j/93752520996?pwd=SUZCb29Xc1g1SXBQL0hna1NvKzRWZz09
Event is open to all. Comments/questions from the contributors to the Festschrift will be via video. Comments/questions from all other participants will be collected via chat function.
Moderated by: Dr Manja Klemenčič, Harvard University